KGC pays tribute to Advocate Bilal Ahmed Bhat (Filla)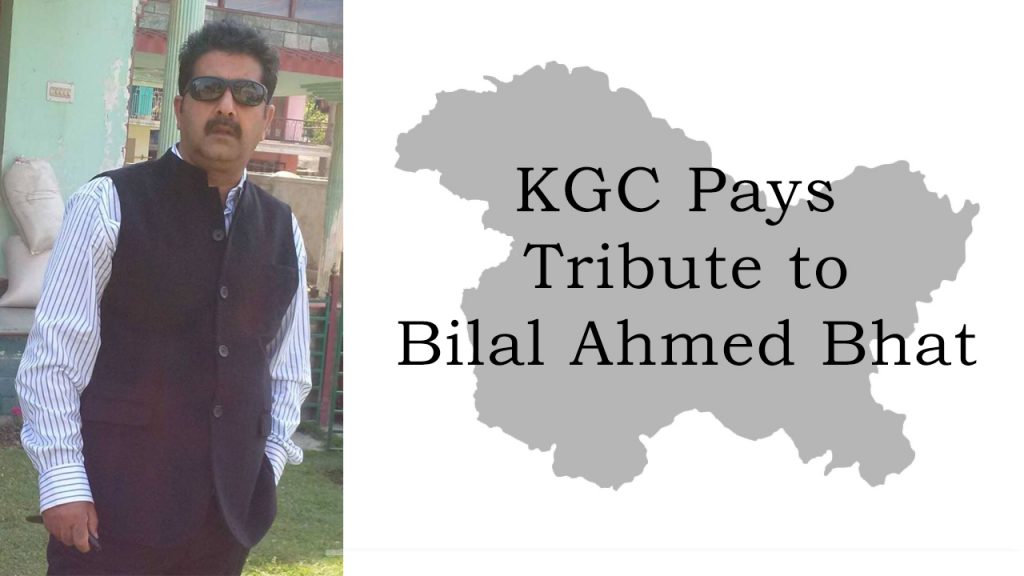 The news of the passing of Advocate Bilal Ahmed Bhat on September 7 2020 (corresponding to 19 Muharram 1442 AH) sent waves of grief across the globe to those who knew him. Mr. Bhat was loved and respected by those who knew him as a friend, a colleague in the judicial and business fraternity, and above all as a comrade in Kashmir's freedom movement. We mourn his passing in both parts of Kashmir, India, Pakistan and across the globe.
To all of them Bilal Ahmed Bhat who was known as Fila Nepal and was an epitome of bravery, both in his life and in his fight against cancer.
All those who knew him were in awe and admiration of his demeanor and the conduct he exhibited in his fight against the deadly disease. His brave stance against cancer never saw him exhibit the anxiety or fear that is often associated with the disease.
His contribution to the freedom struggle may not have had the glamour of exposition but his contribution will remain narrated to generations and will enter into the annals of the history of Kashmir.
He set an example for all of us when he visited Tihar Jail to console his friends, colleagues and activists of the pro-freedom movement even when he was in the final stages of his fight against cancer. Such human beings are very rare.
 Kashmir Global Council while paying tribute to Advocate Bilal Ahmed Bhat affirm that his dream of freedom of Kashmir will one day be realized and in loving memory, we shall build a remembrance monument and gather in your memory now and forever in our hearts.
—
Salim Nannaji's eulogy on the tragic passing of Bilal Ahmed Bhat: